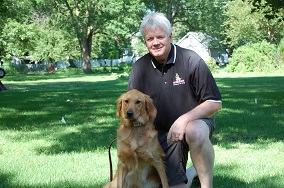 Hi, I'm Steve Swanner, your local Contain A Pet fence dealer. I was born and raised in Burlington, Iowa. My wife and I have two grown sons. I attended Burlington High School, and earned a degree in Design Engineering from Southeastern Community College. I have worked as a machinist for over 20 years.
My interest in becoming a Contain-a-Pet dealer came out of a desire to provide the best environment possible for our dog. My greatest asset going into this venture is my experience with, and love for, dogs. I have had a dog for most of my life, and realized early on that a dog is not simply a pet, but a true family member, giving nonstop, unconditional love and friendship. We wanted our Sadie to have the freedom to run and play in our large yard, but wanted to be sure that she was safe and secure as well.
After checking out different pet fence companies, I decided that Contain-a-Pet  has the best product to offer with the best warranty in the marketplace. opportunity to continue to serve customers long after their initial purchase.
I have been raised knowing the importance of honesty, reliability, and accountability, and I will bring these qualities as I work with you to keep your pet safe, secure, and happy.
Give me a call Today for your FREE Evaluation at 319-759-1962